Fruit Machine Game Reviews
The most common questions people ask on forums related to casinos and casino games are: What is the Best fruit machine game? What slot games should I play? and Which fruit machine has the best payout? These questions have to be answered by the player, simply because different things appeal to different people.
How the games are reviewed
By checking out our reviews you will get the information you need to make that decision by yourself. We rate the following parts of the games with a scale from 1 to 10.
Graphics : The overall Look of the game.
Weight : How fast the game loads and plays in window AND in full screen.
Speed : The overall Speed of the game.
Sounds : The Sounds used, The "annoyince"-factor and the overall quality of sounds.
Athmosphere : The overall Feel of the game.
Jackpot : If the game has the Progressive Jackpot attached to it, it is rated by its average size.
There are probably over a thousand different online fruit machine games "out there", so in no way is it possible to review all of them. The ones we do rate however, are considered to be the most played and enjoyed ones. We hope our reviews will help you with your choice.
Legend of Terra - 3D Slots
Legend of terra is a brand new game that was launched at Slots & Games during the last days of February 2011. The game is the first 3D animated one that you can find in Slots & Games selection and they claim that more of 3D animated slots are coming later. There is no Jackpot in Legend of Terra. Instead the top prize of this brilliant game is set to 200.000£ when the player is a member of the Club Diamond (The VIP players club at Slots & Games) "Normal" players will have a top prize of 100.000£ (So you really should contact their support to get on the VIP train).
Legend of Terra has 20 paylines and 5 reels, making it a standard video slot machine. All the usual bonus, scatter and wild symbols are present which allowes players to win more.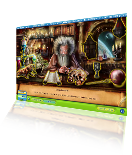 The bonus game at Legend of Terra is the one that will always reward players. The bonus game is based on multipliers, so we suggest to play with at least £1 bet per payline.
Legend of Terra is visually quite attractive and 3D-animations are well used. It is worth noting that the Bonus game comes up quite often, much more often than in fruit machines usually!
Mega Moolah by the numbers:
Graphics : 9
Weight : 8
Speed : 8
Sounds : 8
Athmosphere : 8.
Jackpot : 8
Mega Moolah
Mega Moolah is a 5-reel multiple payline video fruit machine with a HUGE Progressive Jackpot, a great bonus game and other great features. Moolah is quite an old game, it was released in 2006. It is also a rare game because instead of offering only one Jackpot it offers four!
So far the biggest Jackpot payout for Mega Moolah is a stunning 6.3m €! The "average" size of the jackpot is about 2m € and even at its "smallest" its 1 million!
Moolah has a total of 25 paylines and a a bunch of random bonus games which will make you come back to this great game over and over again. Overall Mega Moolah is a great game but it lacks some features the newer games have and the graphics are not so new anymore.
Mega Moolah by the numbers:
Graphics : 7
Weight : 8
Speed : 8
Sounds : 8
Athmosphere : 8.
Jackpot : 10
Mega Fortune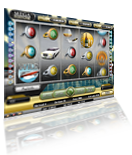 The Mega Fortune fruit machine has a modern look and feel to it. It has 5 reels, 3 rows and 25 paylines and an option to change the coin value. Mega Fortune also has three different jackpots, starting from the smallest one, the Rapid, which is a nice €500. The second, the Major, is a bit better, €50,000,00 and the Mega one can be several millions worth.
Mega Fortune has it all; great looks, great sounds, bonus games and big jackpots. The game is played through the browser which makes it very easily accessible. Mega Fortune is a new generation of browser game that is no longer based on Java, instead it is Flash-based which is faster with better graphics and features that were previously possible only at downloadable casinos.
Mega Fortune by the numbers:
Graphics : 10
Weight : 7
Speed : 9
Sounds : 8
Athmosphere : 9.
Jackpot : 10
Major Millions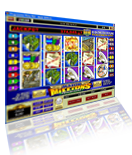 The Major Millions online fruit machine game is one of the most played slot games. It has three different versions you can play; a normal 3-reel, 5-reel and a Multi-spin version featuring a total of 6 reels!
The graphics and the feel of the games are very nice, the Jackpot is even nicer as it starts from $250,000,00 and it typically reaches around $400,000,00 before making someone very happy.
The theme used is a military caricature with the "Bang!" flags and other hilarious things. Getting a Major Millions logo will give you that special reward!
Major Millions by the numbers:
Graphics : 10
Weight : 6
Speed : 9
Sounds : 8
Athmosphere : 9.
Jackpot : 7
Gold Rally
Gold Rally has an old goldmine theme, with a bonus game and a great jackpot that starts from $75,000,00 and it usually climbs up to $700,000,00.
The game features 9-reels with 8-paylines and a theme-related bonus game along with related graphics. The overall feel of the game is quite good but compared to the new fruit machine games Gold Rally is starting getting quite old-fashioned.
Gold Rally by the numbers:
Graphics : 7
Weight : 8
Speed : 7
Sounds : 8
Athmosphere : 8.
Jackpot : 7
Dr. Lovemore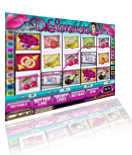 Dr. Lovemore is a fruit machine game with a very funny theme. The game features some of the funniest sounds and graphics and the bonus games available are excellent!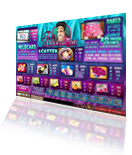 Choose your date, get her a drink and away you go - that's how the bonus game goes in Dr. Lovemore's video fuit machine game. Add to the equation hilarious sounds and graphics and you get a video slot full of fun.
Dr. Lovemore video slot does not utilise its own jackpot but instead gives a players an option to go for a shared Dollar Ball Jackpot. But even without the jackpot lovemore is definately one of the best fruit machines out there.
Dr. Lovemore by the numbers:
Graphics : 8
Weight : 7
Speed : 8
Sounds : 9
Athmosphere : 9.
Jackpot : 4